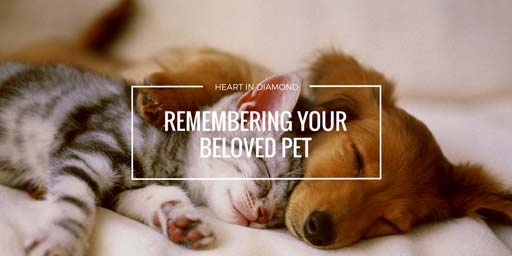 Last revised: November 30, 2018
Pet/Dog's Ashes to Diamonds
Heart In Diamond can create a unique cremation gem to honor your pet's memory—whether you lost a feline friend, a dog, bird, or other animal pal.
Losing a beloved furry friend can be incredibly difficult to deal with. On top of everything else, you need to figure out what to do with your pet's body. Many people bury their pets, either in a pet sematary or back yard. But some people believe that when they bury a pet, they are leaving them behind.
This is why other pet owners wish to cremate their loved animal. However, if you cremate your feline friend or canine pal, you might want to share the memory of your pet. A precious stone made from ashes makes this possible. This way, you can take Fido or Kitty with your wherever you go.
Turning your pet's ashes into diamonds is a wonderful way to keep the memories alive. Whether your pet was a poodle, a cockatiel, a mouse, or a tabby, they deserve to be immortalized. The process is easy, and we deliver your crafted diamond right to your door.
Diamonds Made From the Ashes of Your Dog
Believe it or not, many people have never heard of memorial cremation jewelry. Owners of furry friends are genuinely surprised when they discover that they can turn the ashes of their family pup into a sparkling gem that will last forever. If you have the ashes from your labrador retriever, boxer, or beagle, they can be turned into treasures. It's a wonderful way to pay loving tribute to your best friend without having to say goodbye forever.
All you have to do is send us some of the ashes after they are cremated. It doesn't even take a small amount. We can take their ashes and create a one-of-a-kind commemorative gem just for you. It doesn't matter if you had a very small dog, like a chihuahua, toy poodle, or rat terrier. We just need a small sample of the ashes. And rest assured, you will get the ashes back after we create your own little gem.
Many families have a beloved canine friend. Most times, they are treated like part of the family. When they pass, it can be incredibly difficult. Getting a cremation gemstone in the color of your choice can bring comfort when your furry friend passes.
Diamonds Made From the Ashes of Your Cat
Your feline companions are always there for you—rubbing against your legs, purring, and snuggling with you when you need it most. When your kitty passes away and you get them cremated, their memory doesn't have to end there. Heart In Diamond can turn your kitten or tabby cremated remains into a brilliant stone for a ring, bracelet, necklace, and more. We offer the most cost-effective way to remember your kitty forever and ever.
Felines are such a cool type of animal. There are Siamese cats, Maine Coons, tabbies, and Bengals, among others. Choose a color stone that represents their personality, colors, or birthstone. You can even pick the size of your gem. Choose from 9 various sizes, up to 2 carats. . Diamonds From Other Animals
Cremation diamonds aren't exclusive to just dogs and cats. Perhaps you had a beloved rabbit, ferret, hamster, bird, or horse. When it comes to exotic animal friends who have crossed the Rainbow Bridge, they deserve to be honored and immortalized just like any other pets. It doesn't matter what kind of animal your beloved happened to be—we can turn their sacred ashes into beautiful, unique jewelry in the form of rich stones.